Wedding season comes with a lot of shopping and family start exploring market all around, either online or offline. So here we have created a list of bridal lehenga for wedding. There are lot of designer lehenga available in the market and everyone wants to look different and beautiful. As fashion changes it become cumbersome for bride and bride's family to get the "perfect lehenga for wedding".
This beautiful outfit is a traditional Indian wedding wear. If you started searching online, you may have come across a lot of designer lehenga for wedding.
Before selecting attire for bride-to-be, one should know the varieties of lehengas available in the market. Different styles of Lehenga Skirt such as: Multi-layers, Benarasi, Printed, Sharara Cut, Circular and many more. So to help you out we come with a list of best lehenga collection.
The Timeless Charm of Bridal Lehenga Choli Designs
Bridal lehenga choli designs have stood the test of time and continue to be a popular choice among brides. These exquisite ensembles are meticulously crafted, combining traditional aesthetics with modern sensibilities. With intricate embroidery, luxurious fabrics, and vibrant colors, bridal lehenga cholis are truly a work of art. They not only enhance the beauty of the bride but also reflect the rich cultural heritage of India.
Choosing the Perfect Bridal Lehenga Choli Design
Selecting the best bridal lehenga choli design can be an overwhelming task, considering the myriad of options available. However, with careful consideration of a few factors, you can make an informed decision. The following are some essential considerations:
1. Body Type and Silhouette
Every bride is unique, and it is essential to choose a bridal lehenga choli design that complements her body type. Different silhouettes like A-line, mermaid, and flared lehengas offer various styles and fits. For example, an A-line lehenga suits most body types and provides a flattering look.
2. Color Palette
While red has traditionally been the go-to color for bridal lehenga cholis, contemporary brides are exploring a wide range of colors. From pastels to jewel tones, the color palette is vast and diverse. Consider your skin tone, the overall theme of your wedding, and your personal preferences when selecting the color of your bridal lehenga choli.
3. Embellishments and Embroidery
Embellishments and embroidery play a crucial role in defining the beauty of a bridal lehenga choli design. Intricate zari work, sequins, beads, and stones add a touch of opulence to the ensemble. Choose embellishments that resonate with your personal style and make you feel like a queen on your special day.
4. Fabric Selection
The fabric of your bridal lehenga choli is vital for both comfort and aesthetics. Luxurious fabrics like silk, velvet, and brocade are popular choices for bridal ensembles. Consider the weather conditions during your wedding and select a fabric that allows you to move with ease and feel comfortable throughout the day.
Explore Bridal Lehenga Collection Here: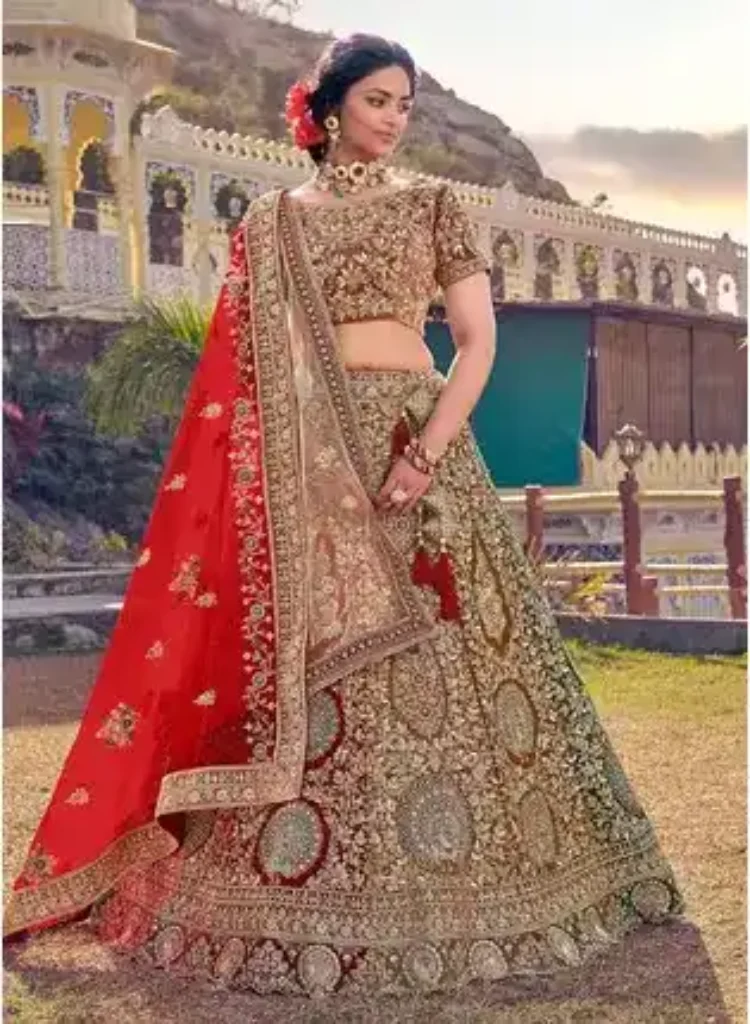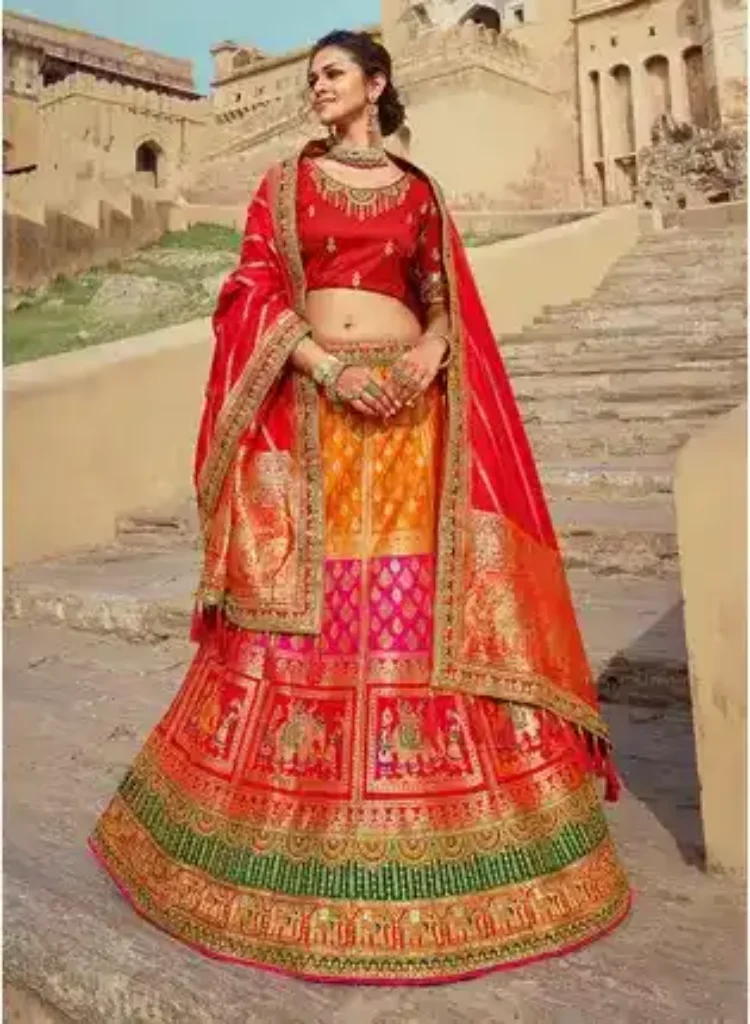 You can buy these lehenga online or get best deals and offers from reputed stores. You can visit Bahuji, House of Indya and many more on SastaOffer.in site for latest updates.
Best Bridal Lehenga Shops in Chandni Chowk: