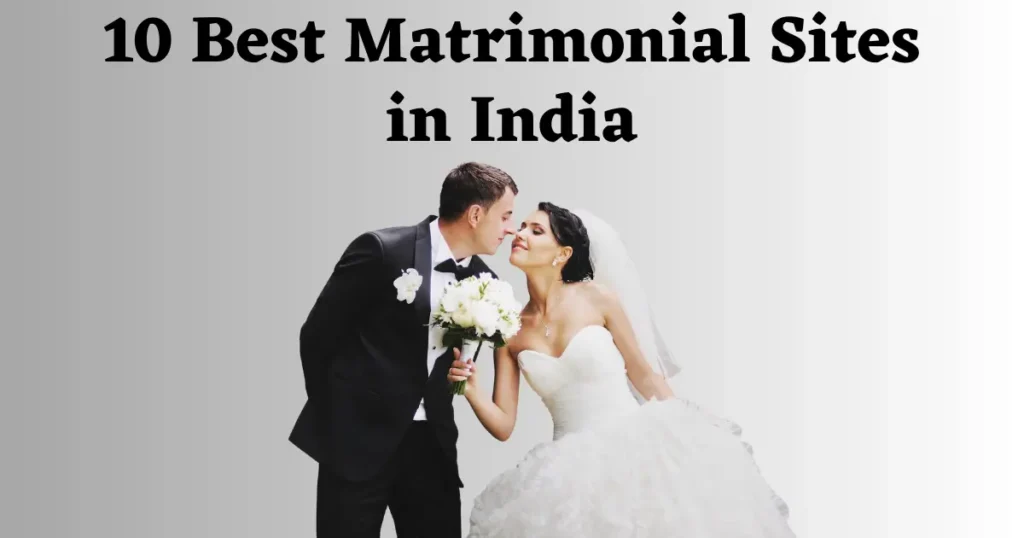 Marriage, a sacred union of two souls, is highly revered in Indian society. But, finding the perfect partner can sometimes feel like finding a needle in a haystack. What if we told you some platforms could make this daunting task a breeze? Welcome to the world of matrimonial sites! Today, we deep dive into the Best Matrimonial Sites in India that can help you find your ideal match.
The Best Matrimonial Sites in India
1. Shaadi.com
Shadi.com, a pioneer in online matrimonial matchmaking, began its journey back in 1997. The brainchild of Anupam Mittal, the platform was designed to revolutionize the traditional process of arranging marriages in South Asian communities, particularly in India.
Dubbed the king of matrimonial sites, Shaadi.com is an industry veteran. With more than two decades of experience, Shaadi.com knows something about bringing souls together. Its robust features, such as matchmaking alerts, compatibility scores, and 360° safety assurance, are designed to provide a hitch-free journey to finding your life partner.
Benefits:
More than 80% of members are highly educated
Smart matchmaking system
Millions of people registered
2. Jeevansathi.com
Jeevansathi.com was launched in 2004 by Info Edge, the parent company that also owns popular Indian platforms like Naukri.com and 99acres.com, Jeevansathi.com quickly gained traction as a trusted source for matrimonial matchmaking. The site offers various membership plans catering to different budgets and needs, like a chocolate box with options.
Benefits:
Control over privacy
Verification by personal visit
100% manually screened profiles
3. CommunityMatrimony
CommunityMatrimony is a unique platform akin to a bouquet, each representing different community-based matrimonial websites. It's a stellar choice for those seeking a partner within their community or caste. The website offers community-specific features and services, making it a tailor-made option for niche audiences.
Benefits:
More than 2 million profiles
2 Lakh success stories
Exclusive community sites
4. SimplyMarry.com
SimplyMarry.com stands out with its dual-platform approach, offering regional and pan-India matrimony services. Like a multifaceted gem, the platform shines with features such as 'Simply Marry Metro,' catering specifically to metropolitan audiences, and 'Simply Marry Bhaskar,' catering to Hindi-speaking demographics.
Benefits:
User Safety & Support
Success Stories
Profile Verification
User Registration
5. Matrimony.com
Matrimony.com rounds out our list with a vast database and premium services. Its dedication to customer satisfaction is like the cherry on top of a sundae, making it one of the top players in the industry.
Benefits:
300+ Online portals
3k+ Employees
52k Shareholders
5 million happy customers
6. Bharat Matrimony
Bharat Matrimony Leading the charge in our list of the best matrimonial sites in India, BharatMatrimony has become trusted and reliable by millions of users. Known for its extensive database of potential brides and grooms, it's like the Grand Canyon of matrimonial platforms — vast and awe-inspiring.
Its advanced filters allow you to narrow your search based on religion, caste, profession, and more, making the process as smooth as butter. Furthermore, the site's robust security measures ensure genuine user profiles are protected from unsolicited attention.
Benefits:
No.1 most trusted matrimony service
100% Verified mobile numbers
Millions have found their life partner here
140+ branches across India
7. Vivah.com
Established in the early 2000s, Vivah.com was created to fill a growing need for a reliable, user-friendly, and efficient platform for individuals seeking matrimonial alliances. The founders, realizing the potential of the digital space, sought to leverage technology to simplify the traditionally complex and time-consuming process of arranged marriages.
Benefits:
100% free matrimonial site
Secured free matrimonial site
Contact unlimited members & view contact details
Bride and groom photo profiles
8. DivorceeMatrimony.com
DivorceeMatrimony.com stands as a become of hope for those looking for a fresh start in their marital journey. This unique matrimonial site, part of CommunityMatrimony.com, focuses on providing a secure, easy-to-use platform for divorcees seeking life partners. The platform provides a non-judgmental space where users can freely express their desires and aspirations for their future relationships.
Benefits:
24/7 live help
Safe matrimony
Marriage horoscope match
Most trusted sites
9. Matrimonials India.com
MatrimonialsIndia.com was launched in 1997 by Weblink.In Pvt. Ltd., MatrimonialsIndia.com was designed with a clear objective – to streamline the process of finding a suitable life partner. In an age when digital platforms were just beginning to take off, MatrimonialsIndia.com emerged as an innovative solution for matrimonial matchmaking.
Benefits:
25+ years of trust
1 million+ active profiles
10k+ members visit every day
1500+ successful marriages
10. M4Marry.com
M4Marry.com, an initiative by the Malayala Manorama Group, is an online matrimonial platform dedicated primarily to the South Indian community. With a robust blend of technology and tradition, it helps individuals find their perfect life partners in a secure and convenient manner. Since its launch, M4Marry.com has grown exponentially, with a user base spanning not only South India but also other parts of the world.
Benefits:
Trusted by millions of members
Enhanced privacy settings
Intelligent matchmaking system
Registration free
Why Use Matrimonial Sites?
Gone are the days when parents would rely on local matchmakers or family networks to find a suitable match for their children. Today, technology is our matchmaker, and matrimonial sites are our new-age Cupid.
1. Wide Variety of Choices
Matrimonial sites are like a global bazaar for finding life partners. With a wide array of profiles, they offer an opportunity to meet people outside your social circle.
2. Saves Time and Effort
Traditional matchmaking can be a time-consuming and exhausting process. Matrimonial sites, on the other hand, are like your personal concierge, presenting potential matches at your convenience.
3. Privacy and Safety
These sites ensure user privacy and safety, making them a secure platform for partner searches. From profile verification to secure chats, your safety is their priority.
FAQ's
1. Are these matrimonial sites safe to use?
Yes, the matrimonial sites mentioned above prioritize user safety and implement stringent measures to maintain the privacy and security of their users.
2. How can I trust the profiles on these sites?
Most reputed matrimonial sites perform stringent verification checks to ensure the authenticity of profiles. However, doing your due diligence before interacting with a profile is recommended.
3. Do these sites cater to specific communities or religions?
While some sites cater to a specific community or religion, many offer services to a diverse range of users irrespective of their religion or caste.
4. Are there charges for using these sites?
Most sites offer a basic set of features for free. However, they may charge for premium features such as personal matchmaking, enhanced profile visibility, etc.
5. Can I find NRI profiles on these sites?
Absolutely! Many of these matrimonial sites cater to the Indian diaspora worldwide and host many NRI profiles.
6. Is it mandatory to provide personal details on these sites?
While some basic details are required for registration, disclosing personal details beyond that is at your discretion.
Conclusion
Finding your soulmate need not be a tough nut to crack. With the best matrimonial sites in India at your disposal, you are just a click away from your ideal match. So, gear up and prepare to embark on a journey toward a blissful marital life.