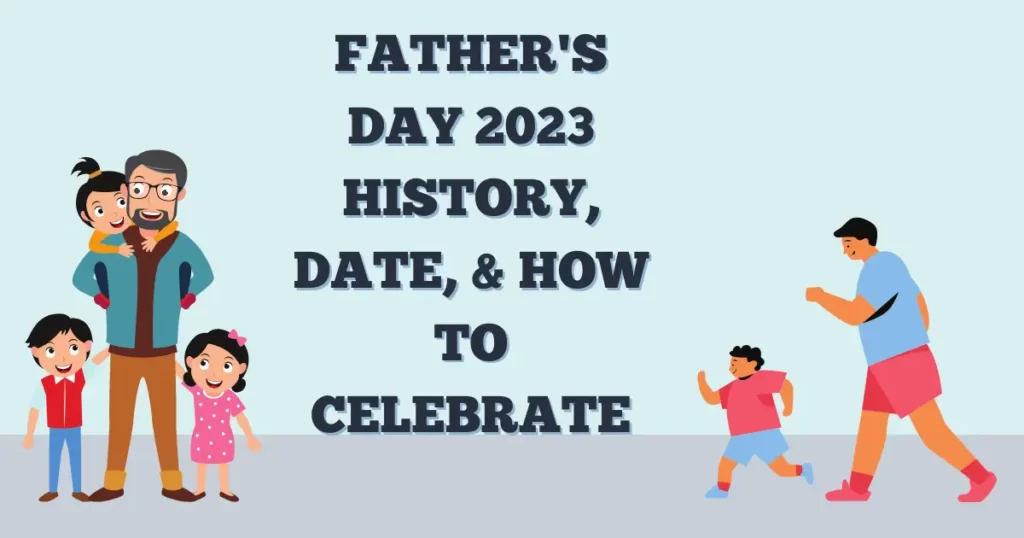 Father's Day is a day to celebrate the fathers and father figures in our lives. It is a time to express our love, gratitude, and appreciation for all that they do for us.
History of Father's Day
Father's Day was first started by the United States of America in 1910. Sonora Smart Dodd, a woman from Spokane, Washington, wanted to create a day to honor her father, William Jackson Smart. Sorona Smart Dodd was raised by a widower along with her siblings.
Dodd was inspired by the popularity of Mother's Day, which had been founded just a few years earlier. She approached the Spokane Ministerial Alliance with her idea, and they agreed to support her. The first Father's Day celebrated was on June 19, 1910, Smart's birthday.
Father's Day quickly spread across the United States. In 1924, President Calvin Coolidge proclaimed that Father's Day should be a national holiday. However, it wasn't until 1972 that President Richard Nixon signed a law making Father's Day a federal holiday.
Date of Father's Day 2023
This time also, as earlier Father's Day 2023 celebration is being done on Sunday, June 18. The date of Father's Day is always the third Sunday of June.
How to Celebrate
There are many ways to celebrate Father's Day. Here are a few ideas:
1. Spend time with your father or father figure. Go for a walk with your father or family, party in your group, or just sit and talk.
2. Give your father a gift. This could be something as simple as a card or as thoughtful as a personalized gift.
3. Cook a special meal or bake him his favorite dessert.
4. Write your father a letter expressing your love and appreciation.
5. Take him out for the day to his favorite activity or restaurant.
No matter how you choose to celebrate, make sure to let your father know how much you love and appreciate him. He deserves it!
Here are some additional tips for celebrating Father's Day:
If your father is no longer living, you can still celebrate his memory. Plant a tree in his honor, read him a poem, or simply spend some time thinking about all the good times you had together.
If your father is not able to come to you, you can still celebrate him long distance. Send him a card, video chat with him, or have a special meal delivered to his home.
If you have children, involve them in the celebration. Let them make cards, help you cook, or choose a gift for your father.
No matter how you choose to celebrate, make sure to make it a special day for your father. He'll appreciate it more than you know.
Here are some special messages for dads:
1. Dad, you are my superhero and my role model. Your unwavering love, patience, and wisdom have shaped me into the person I am today. On this Father's Day, I want to express my deepest gratitude and let you know how much you mean to me. Happy Father's Day!
2. On this special day, I want to acknowledge the countless sacrifices you have made for our family. Your hard work, dedication, and selflessness have provided us with a beautiful life. Thank you, Dad, for everything you do. Happy Father's Day!
3. Dad, you are my first hero and my forever hero. Your love has been a guiding force, leading me through both good times and tough times. Today, I want to honor you and express my heartfelt appreciation. Happy Father's Day!
4. Happy Father's Day to the dad who has shown me what it means to be kind, compassionate, and strong. Your presence in my life is a blessing, and I am forever grateful for your love and care.
5. Dad, you are my rock, my confidant, and my greatest supporter. Your belief in me has given me the confidence to pursue my dreams fearlessly. Thank you for always being there.
Father's Day Gifts Ideas
Here are some gift ideas that can make this Father's Day extra special:
1. Personalized Engraved Watch: A classic and timeless gift, a watch can be made even more special by engraving a heartfelt message or your dad's initials on the back.
2. Customized Photo Book: Gather cherished family photos and create a personalized photo book that captures precious memories and moments you've shared together. It's a beautiful keepsake that your dad can cherish for years to come.
3. Gourmet Gift Basket: Put together a gift basket filled with your dad's favourite snacks, treats, and beverages. Consider his preferences, such as gourmet coffee, chocolates, nuts, or a selection of craft beers. It's a delightful way to indulge his taste buds.
4. Personalized Whiskey Decanter Set: For dads who appreciate a fine glass of whiskey, a personalized decanter set can make a sophisticated and thoughtful gift. Customize the decanter and glasses with his initials or a meaningful message.
5. Tech Gadgets: It could be a new smartphone, tablet, smartwatch, or noise-cancelling headphones. Choose a tech gift that complements his lifestyle.