Getting good sleep is very important in life. For a night of good sleep, there should also be a good bed. There should be a comfortable mattress with beds for sleeping, then only good sleep comes. And there are many mattress brands in India. But selecting the best among these is a difficult task. Today we are going to tell you about the best mattress brands in India. Which can make it easy for you to select good and comfortable mattresses at a low cost.
Type of Mattress
When you go to buy something, there are different types of it. And the type defines its quality. there is bellow type of mattress.
1. Spring –
Spring mattresses are the most popular mattresses. It's Made using flexible springs metal. It provides air circulation to your body. Spring Mattress factor – Better Durability, Bacteria resistance, Excellent Body Support, Cost factor, Popularity, Firmness and Comfort, Pressure relief.
2. Foam –
polyurethane foam, memory foam, and foam latex.
3. Hybrid –
This is made of two and more mixed elements.
List of Best Mattress Brands in India
| | | |
| --- | --- | --- |
| Brands | Discount | Action |
| The Sleep Company SmartGRID Mattress | Up to 45% OFF | Shop Now |
| SleepyCat Mattress | Flat 18% OFF | Shop Now |
| Kurlon Mattress | Starting at Rs.5199 | Shop Now |
| Wakefit Mattress, Furniture, and Accessories | Up to 72% OFF | Shop Now |
| Springtek Mattress | Up to 60% OFF | Shop Now |
| Sleepwell Mattress | Up to 20% OFF | Shop Now |
| Duroflex Mattress | Up to 45% OFF | Shop Now |
| SleepyHead Mattress | Flat 30% OFF | Shop Now |
| Livpure Mattress | Up to 35% OFF | Shop Now |
| Springwell Mattress | Flat 10% OFF | Shop Now |
1. The Sleep Company SmartGRID Mattress
It is 1st Smart grid technology Mattress Brand in India. The Sleep Company was Founded By Priyanka and Harshil Salot in 2019. The Sleep Company uses SmartGRID technology in mattresses to make. Grid is Soft-Rubber, it acts ultra-soft piece of rubber. this mattress is back pain relief and comfort. and Cools the Body.
Products –
Mattresses (King/Queen Size Mattress, Smart Luxe, Smart Ortho, Luxe Hybrid, Ortho Hybrid, Ortho Pro, Luxe With Snow Cooling Technology, Orthopedic Mattress, and Luxury Mattress)
Bed (Protector, Fitted sheet, and Comforter)
Chair (Smart Adjustable Recliner Bed, Smart Adjustable Recliner Bed With Frame, and Premium Wood Bed)
Pillow (Hybrid Pillow, Cervical Pillow, and Plush Pillow)
SmartGRID Chairs (Onyx SmartGRID Chair, Aristo SmartGRID Chair, and Stylux SmartGRID Chair)
Note* – 100 Nights Free Trial, Free Shipping and Returns, and 10-Year Warranty.
2. SleepyCat Mattress
The Second Option for Mattress can SleepyCat Mattress for you. This Mattress is Very Comfortable for Back Pain and Neck Pain. SleepyCat Customer Support Team is Always Active for Any Help. This Provide Hybrid Latex Mattresses, Foam mattresses, pillows, and More. Mattress Quality is Good and Affordable.
Products –
3. Kurlon Mattress
Kurlon Mattress is Oldest Mattress in India. That Started in 1962. Kurlon Mattress is Good quality and Comfortable Mattress. this mattress is one of the top Best mattress brands in India. This Mattress is Made from Foam. It keeps our body relaxed and cool.
4. Wakefit Mattress
Wakefit Started is by Ankit Garg in 2016. Wakefit is Orthopaedic Memory Foam Mattress. Wakefit Dual Comfort Mattress is one of the best mattresses in India for back pain. it is a good mattress.
5. Springtek Mattress
Springtek is one of the oldest mattress manufacturers in India. Which is providing online matrices etc for the last 40 years. This provides Furniture, Mattresses, bedding, and accessories for home Online. Springtek's quality of the mattress is good and very much comfortable. Springtek design and manufacture high-quality and high-performance mattresses. Springtek is well known for the mattress for single and double beds with memory foam.
6. Sleepwell Mattress
Sleepwell was started in 1971. Which is known for making mattresses. Sleepwell uses materials rubberized coir, foam, memory foam, and springs to manufacture their mattresses.
7. Duroflex Mattress
Started in 1963 Duroflex is now a leading one of the best mattress brand in India. Durofles are high-grade orthopedic mattresses. The mattress has high-density coir and rebonded foam to support your back properly and has to relieve your back pain. Duroflex uses materials foam, memory foam, coir, Bonnell spring, latex foam, and pocket spring to make mattresses. this is available at an affordable price.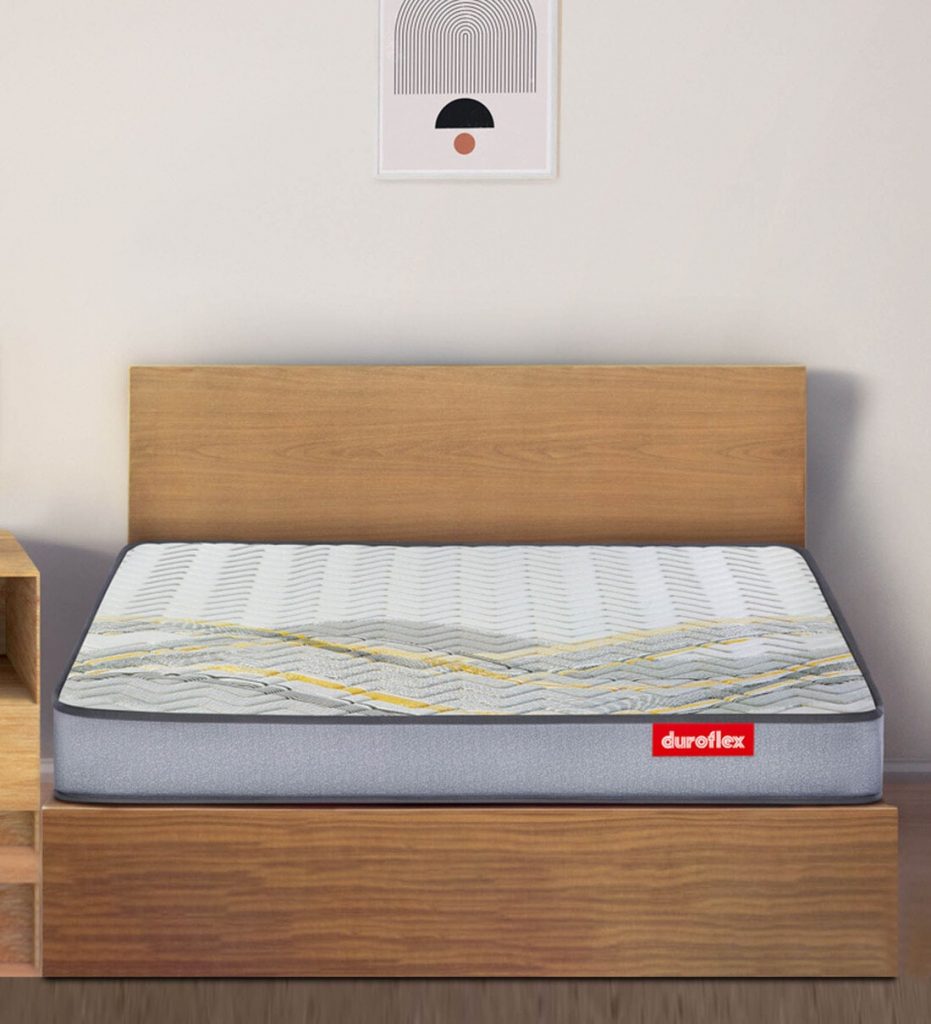 8. Sleepyhead Mattress
Sleepyhead Mattress is a 3-layer orthopedic mattress, specially designed for posture retention. Sleepyhead mattress is made from layers of Super Soft Foam. Sleepyhead is Manufacture the best quality mattresses, beds, sofa sets, and recliners. this maintains your body temperature after sleeping. Sleepyhead mattresses are available in various sizes – double, king, queen, single, etc.
9. Livpure Mattress
The next mattress best brand is in India Livpure. Livpure is a popular brand of a foam mattresses. this is available for an easy and affordable price.
10. Springwel Mattress
Springwel has founded by Harinder Singh sachdev on 24 Oct, 1996. Springwel Mattress is a Spring technology-based mattress in India.
Conclusion
Good sleep is essential for good health. So Select the Best Mattress and Enjoy Good Sleep. and Feel Better All Day. Get an Extra Discount Coupon Code on All Mattress With SastaOffer.