Today there are number of ways you can earn money online and one of them is through freelance websites. There are many freelance websites to register yourself and start your work. You should try to find freelance websites that are specific to your skills and passion rather than just go and start doing anything that has any potential to get some gig for you.
You should carefully go through the terms and conditions of particular website and be careful of frauds. Commission rates of these websites should be kept in mind, it won't be like you go and start work, then in that case the result would be – only penny.
It is always recommended to first research about the websites (this is why we are here for you!) on forums.
What is Freelancing?
Freelance websites are the ones where you can earn money based on your skill and passion. You can also say Freelancer as self-employed professionals. Now-a-days there are number of websites available online where you go and register yourself then find work. These platforms are easy to find but with due diligence.
You can choose any field in which you have interest like development, design, creative, sales, marketing, writing, finance, accounting, engineering, legal and what not. It is literally anything you can imagine to do. The only thing that left is to select what freelance platforms you choose.
To make it easy for you to decide we have made a list of best freelance websites to work online. Here is the list:
List of Top Freelance Websites to Find Online Work
1) Upwork
Upwork is a work marketplace. Upwork is an American freelancing platform. It headquartered in Santa Clara and San Francisco, California. This was formed in 2013. In, 2017 it had over twelve million registered freelancers. TIME's List of 100 Most Influential Companies of the year 2023 name – Upwork. Here on Upwork, you can browse by different categories such as, development, design, creative, sales, marketing, writing, translation, finance, accounting, legal, and much more.
2) Freelancer
Freelancer is a freelancer marketplace website. It allows employers to post about jobs that others, that is, freelancers can bid on. On Freelancer employers post work for site members who then place bids. You can freelance here on different categories such as website design as freelancer, translation, python, excel, photoshop, mobile apps, WordPress development and WordPress plugin development, work on android apps, work on copywriting, blogging for beginners and for professionals, finance and a lot more.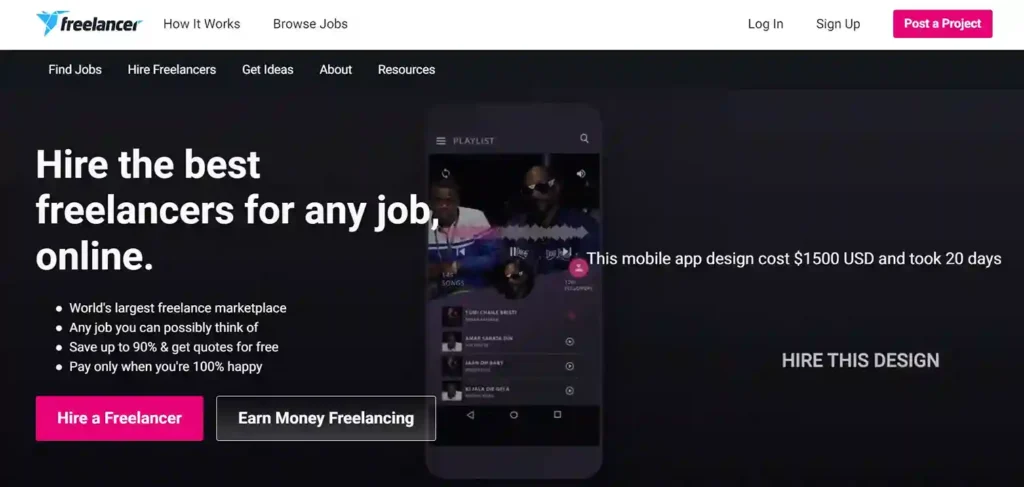 3) Toptal
Toptal is a freelance marketplace website where people who want to work as freelance can get work. Freelancers can work as developers that can be seasoned software engineers, coders and architects. Freelance work for designers, get work as expert in UI, UX, and designers and other ranges.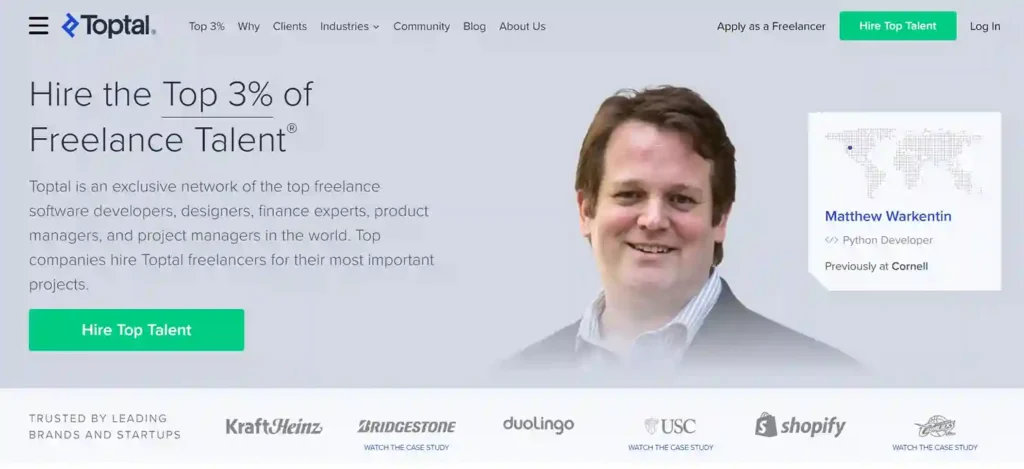 4) Fiverr
Fiverr is a global online marketplace that work very well for freelancers. Freelance websites helps employer getting their work done by people, often called as freelancers, who are professionals in there respective skill-set. You can do anything such as logo design and build brand, customize site on WordPress. You can help employers on Fiverr to reach more customers using social media strategies for them.
5) Servicescape
Servicescape is a marketplace to find freelancers. Here you can hire an editor for content analysis and professional proofreading. Editors on this platform has expertise in there respective field. Today one can reach a vast audience online and to make it easy, you can use translation services to broaden your scope. Servicescape has expertise in over 20 languages, and help to translate your content.
6) PeoplePerHour
PeoplePerHour is a freelance service marketplace, here you can find freelance jobs and freelance work projects. You can post project for free to find professionals freelancers who have expertise in there respective field. Get freelance data entry jobs in India and other countries. Boost your traffic, hire SEO specialist. Build your site, hire website developer. Make your brand recognizable, hire logo designer.
7) Hubstaff Talent
Hubstaff Talent is a marketplace for business and individuals to hire professionals who have expertise in there freelance services. On Hubstaff Talent, hire web developer, JavaScript developer, CSS & HTML developer and WordPress developer too to get things done. If you are dealing in marketing and sales, then explore for social media marketing, email marketing, Facebook marketing, SEO (search engine optimization) and many more. Get designers – graphic design, photoshop, video production, logo design and much more to explore.
8) Flexjobs
Flexjobs is a job marketplace, a site for flexible and remote jobs, like jobs for work from home. Explore Flexjobs for data entry jobs and more with no ads, junk or scams. Flexjobs are experts in remote and flexible work since 2007. On this platform, there are 28k+ jobs from 5800+ companies. Explore site for job related to account management, administrative jobs, advertising or PR jobs, business development job, consulting, editing and what not to say. Event planning job, fashion jobs, graphic design jobs, legal jobs, web design jobs and much more.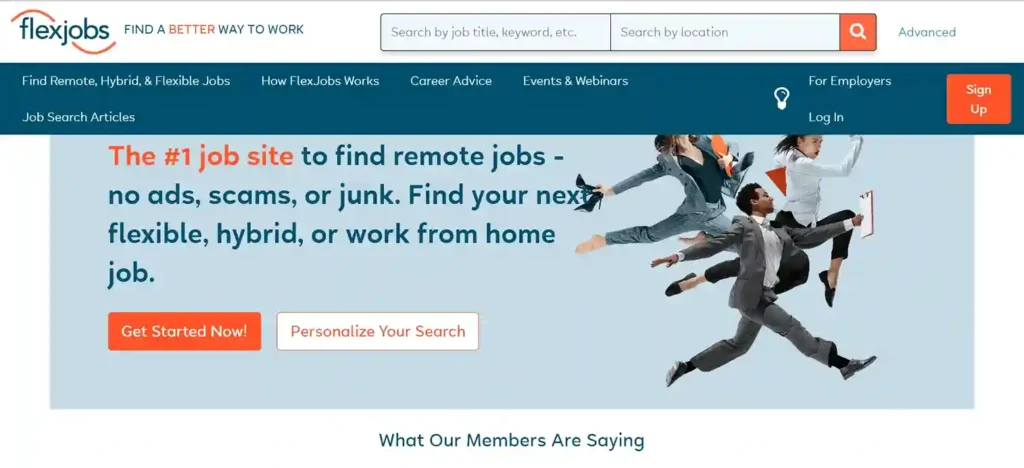 9) 99designs
99designs is a marketplace for graphic design by Vista. Platforms like 99designs makes it easy for freelancer to work with professionals and creative experts around the world and build brand. Here on 99designs you should explore services like branding design, logo & website, website design, product packaging, illustration, book cover and much more. 99desings provides a platform for clients and freelancers to work together. Such platforms create more opportunity and creativity around the digital world.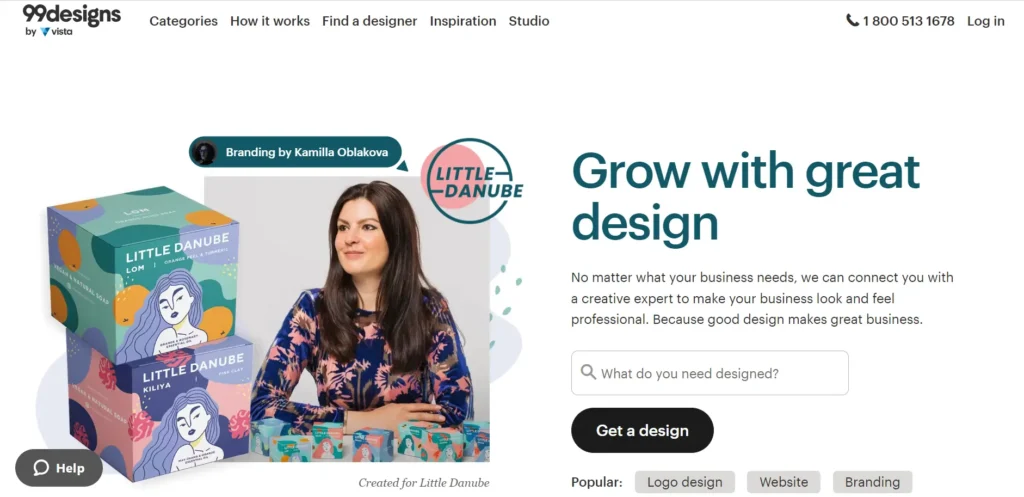 10) Dribble
Dribble is the largest platform for designers to share their work online and get work from around the world. It is a social networking platform for designers who have expertise in animation, branding, illustration, product design, web design and much more. There are millions of designers and agencies around the world who showcase their work on Dribble to professionals.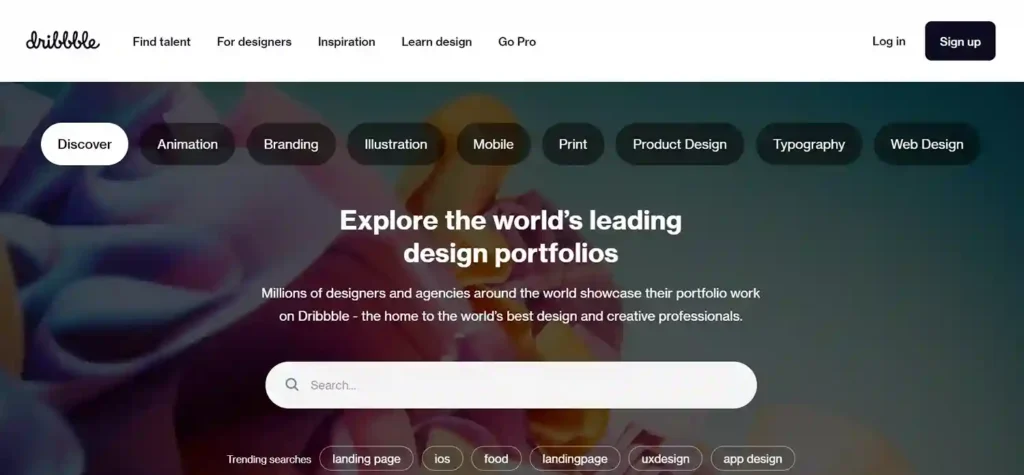 11) Designhill
Designhill is a freelance website for creators who showcase their portfolio on the platform. It provides services like A.I. Logo Maker and you can also hire a designer for your project and collaborate on platform. Build design for your social media marketing.
12) Behance
Behance is world's largest creative network for showcasing your skills and passion. Behance is owned by Adobe. As of October 2020, Behance has over 24 million members worldwide which makes it one of the largest marketplace for creators. Any user can view particular project, and can comment on them. On Behance, you can follow other creators. You can hire creators for projects.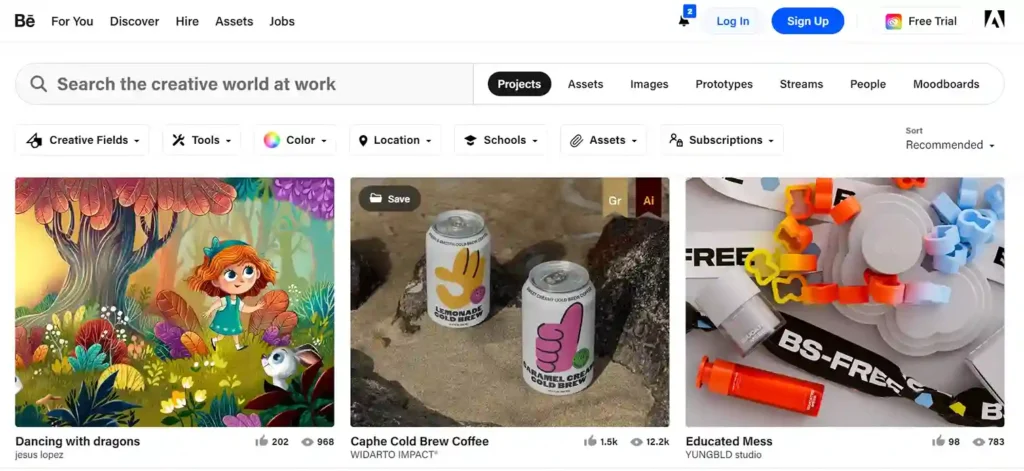 How to Start Working on Freelance Websites?
You got a number of freelance websites to find online work. So, what are you going to do now? No idea? Here the some of the best way to start freelancing – depends on your skills, experience, and type of industry you are looking to work into.
Create a Portfolio: This is the first and very important thing to do. To start freelancing work you have to make a portfolio of your own. This includes your previous experience, projects, studies or testimonials. Portfolio can be a website or single-page website.
Interact with online communities and forums: Go and search about skills or topics you are interested in and start interacting with people of same interest. It can either be forums online or social media accounts of people who discuss such things.
Enhance your skills: You can start freelance work online on websites but you also have to keep yourself up-to-date to impress your clients. Visit SastaOffer to get better deals and offers on professional courses to enhance your skills for freelancing.
Frequently Asked Question
Which freelance website has the most users?
Upwork. Upwork is the world's largest freelancing website and the first freelance platform to offer a payment guarantee.
Does freelancer pay daily?
Freelancers get paid for the work they complete, and if they don't work, there is no paycheck coming at the end of the week.
Is Fiverr fake or not?
 Fiverr is a legitimate Platform
Is Upwork is real or fake?
Upwork is not a sacm. But, many fake jobs are posted in upwork. It is true that getting hired for a job in upwork not easy now a days.