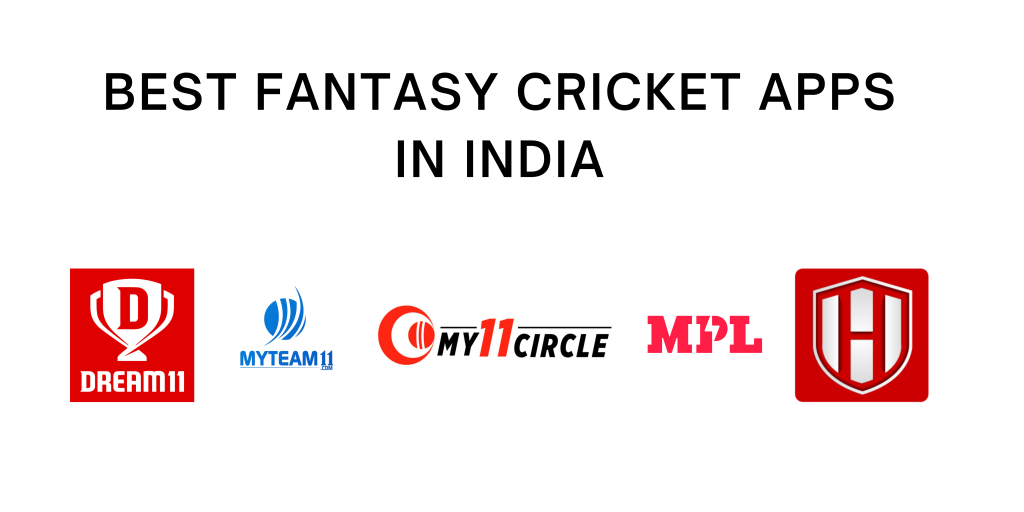 Due to the increasing popularity of cricket in India, the fantasy app has got a lot of boosts. Fantasy cricket has taken India by storm in recent years, with millions of cricket fans participating in online fantasy cricket leagues and contests. Today fantasy has become a huge market in the online gaming industry. Fantasy sports is a platform for online gaming where fantasy players can create a virtual team of real sports players and a Cash Prize Win. In this blog, we'll take a look at some of the best fantasy cricket apps available in India.
List of Most Popular, updated, User Trusted, and Best Fantasy Cricket Apps in India
Each of these apps offers unique features and gameplay options.
How to Play Fantasy Cricket
For Join the Match Follow Some Steps:
Download the Any Fantasy App and Sign Up.
Choose the League (Cricket, Kabaddi, Football Etc).
Select Match and Create Team.
Join Contest.
Start the Match, Win Real Cash According to the Performance of Your Team.
Dream11
Dream11 is a Fantasy Sports Platform Based in India that allows users to create virtual teams and participate in various sports leagues. It was founded in 2008 by Harsh Jain and Bhavit Sheth and has since become one of the most popular fantasy sports platforms in India with millions of users across the country.
Users can participate in fantasy leagues for a variety of sports, including cricket, football, basketball, kabaddi, Hockey, and more. They can create virtual teams by selecting real-life players and competing with other users in paid or free leagues. The platform also offers a variety of tools to help users manage their teams, including live score updates, player statistics, and expert advice.
Refer and Earn:
Collect Rs.6000 Cash Bonus & More Pre Friend
You Get 50% OFF Up to Rs.100 When a Friend Joins 1st Public Cash Contest. and Your Collect Up to Rs.6000 When a Friend Completes 10 Milestones.
Download app
Dream11
Get a Welcome Bonus on Your First Deposit.
MPL (Mobile Premier League)
MPL (Mobile Premier League) is the most popular eSports and mobile gaming app in India that offers a variety of games to its users. It was founded in 2018 by Sai Srinivas Kiran G and Shubham Malhotra.
MPL offers a wide range of games, including classic games like fantasy sports, chess, ludo, and carrom, as well as popular mobile games like PUBG, FreeFire, and Rummy. Users can participate in these games and compete with other players in paid or free tournaments.
MyTeam11
MyTeam11 is known to be the Largest Market Leader & the Most trusted fantasy sports brand across India. It was Started in 2016 by Vinit Godara and Sanjit Sihag.
Game – Fantasy, Poker, Rummy, and More.
Welcome Offer
Download and Sign – Get Up to Get ₹125 in Your Cash Bonus.
Download app
MyTeam11
Download and Sign Up to Get Rs.125 in Your Cash Bonus
My11Circle
My11Circle is an Online Fantasy App that is Part of Play Games24x7 Pvt. Ltd. My11Circle is an Interactive and Exciting Platform that Brings the Fantasy Cricket League to a Full Circle.
Game – Enjoy playing fantasy cricket, fantasy Football, and fantasy kabaddi right on your device.
Howzat
Howzat is an online multi-gaming platform that offers a variety of games, including cricket, football, basketball, baseball, and more. The platform allows users to create virtual teams and compete against other users in real-time matches. Howzat offers a user-friendly interface, a variety of game formats, and various rewards and bonuses. Users can also participate in daily, weekly, and monthly contests to win cash prizes. Howzat is a popular choice among cricket enthusiasts in India, who enjoy the platform's engaging gameplay and exciting features.
Refer and Earn:
You Get, Rs.500 for Free When Your Friend Makes a Deposit of Rs.200 and Your Friend Will Fet Rs.500 for Free.
Vision11
Vision11 is an excellent platform for cricket fans who love fantasy sports. With its wide selection of cricket leagues, user-friendly interface, real-time updates, secure and reliable platform, and exciting prizes and rewards, Vision11 offers a unique and enjoyable experience for users who want to create virtual teams and compete against other fans.
MyMaster11
Real11
Available Games: Cricket, Football, Kabaddi.
Offers: Paytm
Purchase Now
Real11 – Fantasy Cricket App
Sign Up and Earn Cash Prizes Up to Rs.175 + Rs.5000 Welcome Bonus
What is Fantasy?
Online Games have been Defined as "Games of Skill" and the Fantasy Cricket App is an Online Gaming Platform. It's Related to Virtual Team but the Game (Cricket, Kabbadi, Haki) League is Real. Enjoy Playing Fantasy Cricket, Fantasy Football, and Fkabaddi Right on Your Device. and You can Win Real Cash and Rewards.
Is Fantasy Cricket Safe and Legal to Play?
Fantasy is Absolutely Legal to be Played in India. Fantasy Games are Skill-Based (Public Gambling Act, 1867) Games that do not Fall Under Gambling. But banned in some states (Assam, Sikkim, Nagaland, Odisha, Telangana, and Andhra Pradesh) of India
Which is the best fantasy cricket app in India?
Some of India's Most Popular, Trusted, and Best Fantasy Cricket Apps: Dream11, MPL, My11Circle, MyMaster11, MyTeam11, Howzat, Vision11 Etc.