There are a number of trading platforms out there, and it becomes difficult for a trader to decide which one suits their trading behavior. To make it easier for you to decide on seamless trading, we list 10 best online trading platforms in India on the basis of trading platform speed, how handy their tools are for advanced trading, and the most important thing for a trader i.e. real-time market data availability.
| | |
| --- | --- |
| Trading Platform | Broker |
| Zerodha Kite | Zerodha |
| ICICI Direct Markets | ICICI Direct |
| Trade Station | 5 Paise |
| Angel Broking Speed | Angel Broking |
| Upstox Pro | Upstox |
| Fyers ONE | Fyers |
| Sharekhan TradeTiger | Sharekhan |
| Motilal Oswal Trader | Motilal Oswal |
| Trader Terminal | IIFL |
| Groww | Groww |
Types of Trading Platforms in India:
To learn about trading platforms, let us first understand what are different types of online trading applications are available in India.
Desktop: here you need to download the software from the respective platform provider in your desktop or laptop to use it's all functionality. This is the fastest compared to other two. In most of the service providers it will have shortcut keys to place buy or sell orders quickly and most importantly without any slippage.
Web: under this type of platforms you don't have to install any software to use for your trading. The platform can be accessed from the web browsers like Chrome or Edge. This is widely used by retail traders.
Cell Phone Application: cell phone application is widely used because of its ease of use anywhere and anytime. Nowadays almost every trading platform has there application on Google Play Store or Apple Store. You go to store and install the application then login using the credentials provided by broker and start trading.
Complete Guide to Choosing a Right Online Trading Stock Broker
Trading Commission: There are different commission rates for different securities – for every market segment, equity, futures & options, commodities, currency, etc.
Different Tools & Chart Layout: Trading tools are like those teachers who guides us where we think to go, and to have access of multiple tools is truly a blessing. Different chart type helps in different markets and tells what to do in different market scenario.
Less Bandwidth: For some people, platform which consumes less bandwidth can also be a criterion to choose.
Avoid Slippage: We traders love to trade on a platform which is fast, secure and easy order placement, obvisouly to avoid slippage.
Number of Scrips: Market watchlists and number of scrips one can create is also useful.
User Interface: Order placing from the chart itself.
Fees Structure: There may be other things that matter more to you but you should get an idea about how much you are gonna pay to use brokerage.
Click Here for Detailed Information
List of Trading Platforms in India:
1) Zerodha
Zerodha is a web trading platform that consumes less bandwidth. You can also access full MarketWatch, and its charting software has many indicators and chart types that you can use with layouts. Place orders in milliseconds on Zerodha. To know more about market liquidity, you have access to a market depth of up to 20 views. The user interface of Zerodha Kite is very smooth and you can manage your portfolio with ease. But there is a drawback to the Kite platform: you can't trade directly from charts.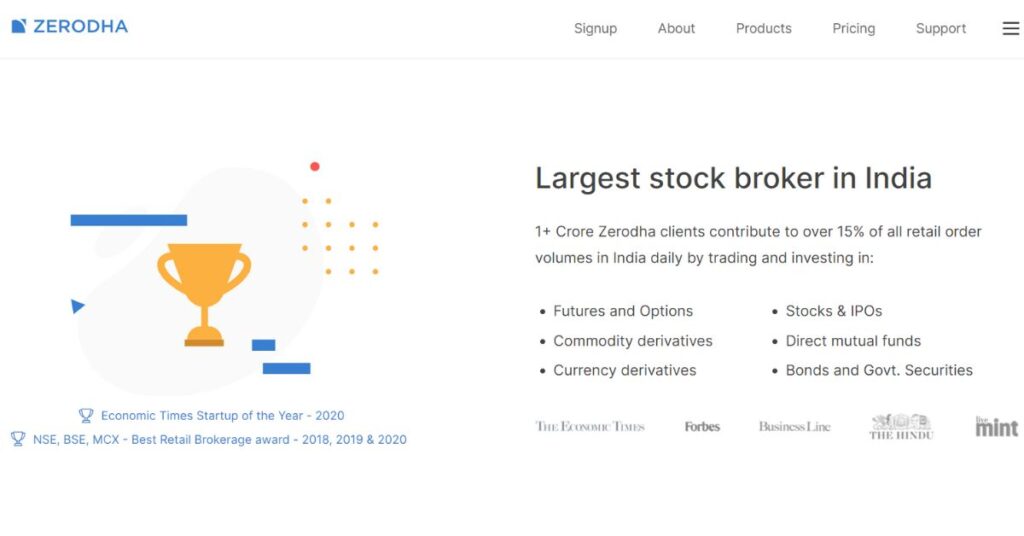 2) ICICI Direct
ICICI Direct's trading platform ICICI Trade Racer is a desktop-based trading platform. ICICI Trade Racer has a market scanner which helps traders and investors to analyze their actions. It has also trend scanner for traders to take calculative risk, before taking any trade. And it also helps in identifying trading opportunities on the basis of price action. It's scanner also helps in identifying any respective scripts nearing days, week, month and even on the basis of minutes. This trading platform also offers "heat maps" for the script movements.
3) 5Paisa
5Paisa trading platform helps you trade in equity, futures & options, currency, commodities and invest in mutual funds. You can buy digital gold from your mobile trading application. Placing orders has now become easy, one can do by a single click. This platform's advanced charts and indicators gives a better chance to analyze a market movement before taking any random trade.
4) Angel Broking
Angel Broking is one of the best trading platforms available now which offers 40 technical chart indcators. These technical indicators helps a trader to decide and take trade on price action. Angel Broking has an app that comes integrated with Angel's ARQ tool. This tool helps in improving portfolio performance for its clients/customers. The UI/UX of Angel Broking App's make it easy for a novice trader or investor. One can also access the reserach reports solely on this platform. There is also a drawback of this platform and that is one cannot invest in IPO and bonds.
5) Upstox
Upstox is a web based trading platform that can be used to trade on any operating system. A good internet speed with a desktop or from it's mobile application, you can trade anytime and anywhere. It has great indicators to analyze before taking trade. One can also use cover orders and bracket orders from the panel. You can access the historical data for the last 10 years. The best part about Upstox is, you can trade on your analysis directly by clicking on the chart.
6) Fyers
Fyers has one the unique trading platform where one can trade directly from the chart. This kind of software's are very helpful for scalpers who always try to enter a trade without losing price action. It means you can place the mouse at the price on the chart and place any order. You can also modify the order, and that is also on the chart itself. Fyers One is a desktop trading platform. This platform's software also has stock screeners, that helps all types of traders and investors. To perform a in-depth analysis this platform has various types of studies available where you can watchlist scrips by sector, industry and also derivatives.
7) Sharekhan
Sharekhan has a charting tool which is fast, reliable, and have advance tools. This platform has studies like Bollinger Bands, MACD, DEMA, Super Trend and many more to help traders taking calculative risk. If you wish to use this software, you have to install it in your desktop or laptop. This can be downloaded from Sharekhan website. In Sharekhan you get real-time quotes without delay. You can trade at multiple exchange BSE, NSE, MCX, Currency in cash and F&O within the same platform. One can set alert settings on touching a certain price. You can access video tutorials within the platform.
8) Motilal Oswal
Motilal Oswal is a top-notch stock-broker of India having advanced trading software. It also has desktop trading software. One can trade fast, means best for trader and more to scalper. One can access technical indicators to analyze price action . There are number of indicators that can be used at trading time. There are so many research reports available on this platform. This high capability software can be used without any lagging. You can set alert by any means for a trade and create different watchlists for different stocks or derivatives, commodities or currencies.
9) IIFL Securities
IIFL (India Infoline Limited) is one of the best trading software in India. IIFL 's user interface is goood which makes it easy to use for its users. There are number of shortcut keys which let traders and investors take trade very quickly. IIFL also has a call features that provides tips to place intraday orders. This platforms also allows traders and investors to take after market orders. You can also access weekly reports of your trades and investment. Before trading in F&O, Commodities and Currency segment you need to submit an application forms.
10) Groww
Groww is the one which starts as direct mutual fund investment platform. Later, Groww expanded it's model and start offering in Equity trading. Groww has also other investment segments such as investment in digital gold and fixed deposit. It has both web and mobile trading app. It is safe and secure app. If you looking for any tips or recommendations from a broker, Groww doesn't have any such thing. There are many informative stuff on Groww such as eBooks, educative blogs and resources. You can open account with Groww instantly without any paper work, i.e. all online.
Final Thoughts on Trading Platforms in India:
You can choose any platform and it is entirely depends on one's trading behaviour. Everyone has different trading style and so does there trading platforms.
So take time before starting your trading journey, but when you choose stick to it and keep learning.
This trading industry has so much to learn and do we. For more you can subscribe to our newsletters and get latest updates.
Conclusion
Selecting the right online trading platform is crucial for your investment journey. Each of the platforms has unique features, and the best one for you depends on your trading style and needs. Remember to research, stay informed, and trade responsibly.
FAQs
Q. What is a trading platform?
A. A trading platform is software that facilitates buying and selling financial instruments online.
Q. Are these platforms safe for trading?
A. Yes, the platforms listed here are reputable and secure.
Q. Can I trade on multiple platforms simultaneously?
A. Yes, you can trade on multiple platforms to diversify your investments.
Q. What are the tax implications of online trading in India?
A. Profits from online trading are subject to capital gains tax. Consult a tax expert for details.